Identifying aged care options

When planning for your aged care needs, you have choices. Your choices may depend on how much help you need, where you live and what other resources (people and/or financial) you have available. Don't start with the limitations. Start by thinking about your ideal plan, then consider what supports you might need and whether they are available and affordable.
Choosing your best care option has two aspects – choosing and finding the right home (where to live) and accessing the right care (how to live).
The aged care diagram gives a quick view of aged care options, and how your choice of where to live impacts the types of care and support available.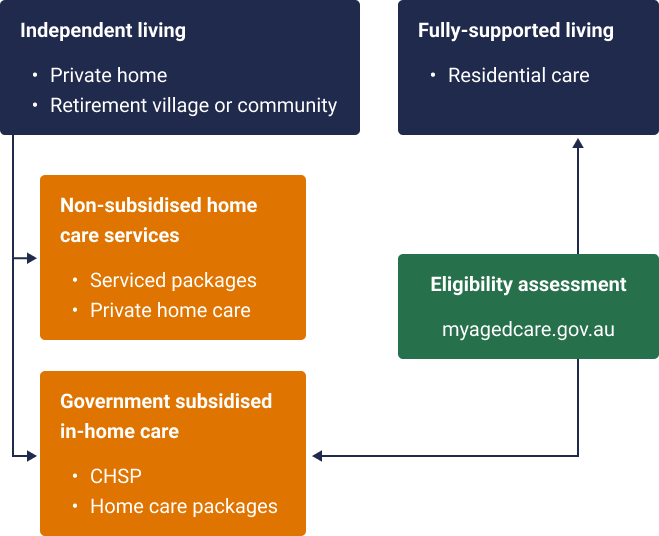 Choosing where to live
Deciding where to live can present challenges. For example, you might be tempted to focus on residence types, but where you want to live might not provide the range of care or support that you need, or the care might seem unaffordable.
It is best to think about your highest needs and then rank your preferences. What are you not willing to give up or compromise on? This will help with reaching the best decision for you. Start by thinking about where you want to live. For example, would I like to:
Continue living in my own home ​?
Move to live with one of my children ​/ grandchildren /friends ?
Live in a community specifically designed for older people ​?
Access full-time care in a residential home ?
Next, think about how you are managing your personal care and daily activities. Do you need extra support? Would your quality of life and safety improve with access to care support? Think about whether you could access the care you need in your preferred home, or would another option provide a better choice?
If you are unsure what might be best for you or where to start, the Fase3 tool can help you to get started.

Accommodation options
Moving homes incurs expenses and change can be unsettling. Plan early to consider the practical and financial implications. Don't just think about what you need today. Also think about what changes might be ahead.
While there is a wide variety of options for where you can live, they can be grouped into:​
Independent living​
Partially supported, with in-home care​ support
Fully supported residential care.​
Most importantly, your home should be somewhere that you feel safe and supported so you can maintain a happy life, even as your health or capacity declines. An overview of the four main home categories are below.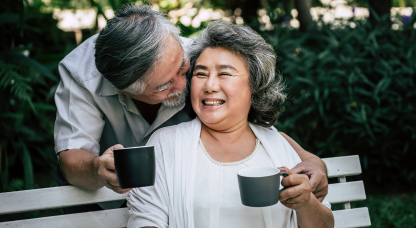 Living in your own home
Living in your own home gives you the highest level of independence. You may choose to buy your home or you may choose to rent.
Renting can allow you to access a home when you can't afford to buy, or you don't want to buy. It can also allow you to move and test different lifestyles without expensive costs like stamp duty. The downside is that you can't do modifications to change the look or functionality of the home and you don't have control over how long you can stay beyond the term of your rental agreement.
Buying a home gives you greater control and stability. But you have to invest a large amount of your savings into the place where you live. If you need additional income to live on, you might be able to use the equity in your home to borrow additional income or a lump sum. There are commercial reverse mortgage options and the government offers a low-interest home equity access scheme.
In your own home, you have responsibility to maintain both the outside of the home and all aspects inside your home. If you are renting some of these expenses may be the owner's responsibility and if it is strata title, strata may take care of maintenance.
Knowing what in-home care services and support are available, and when to access them, may help you to live at home for longer. Government-subsidised options may also help to make care more affordable, regardless of whether you are an owner or a renter.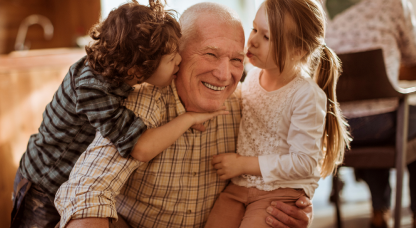 Living with the kids – granny flat rights
Multiple generations of family living together in the one home is becoming more popular. This can help the kids with affordability to buy a house, with built-in child minders. It can also help older parents avoid loneliness, be more actively involved with their family and access affordable care and support. ​
This sounds like a win-win. And it can be. But it can also be disastrous if you don't enter with eyes wide open and a good legal agreement. ​
We love our families, but things can go wrong, needs can change and relationships can break down. So make sure you have an exit strategy which is legally documented so everyone knows what to expect. This won't avoid all the problems, but it may help. ​
These arrangements are commonly called granny flats. When you think of granny flats you might think of a small apartment at the back of a child's home, but there are other variations where a parent can transfer money to the child in exchange for the right to live with the child and their family. If set-up properly, this might have advantages for age pension entitlements. ​
Even though your family may be on-hand to help with your care needs, you can still access private or government-subsidised home care services for extra support.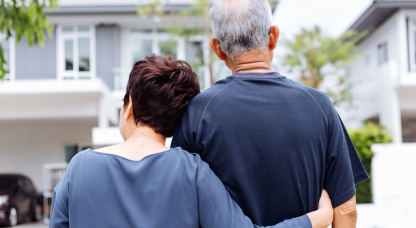 Retirement villages and communities
You might still be quite independent, but want a more community style of living for support or lifestyle – a retirement village or land-lease community.​
In a retirement village the operator owns both the land and the home. In most cases, you will have a licence or lease type agreement which gives you the right to live there, but other models also exist. Each provider sets their own pricing, accommodation options and range of available services. The rules can vary from one provider to another. So these are not quick decisions and you should get legal advice to understand the contracts.​
A land-lease community is a bit different as you own the home, but lease the land it sits on from the operator. Sometimes you might be able to rent instead of buy. The costs depend on the buying and selling price of the home as well as ongoing ownership costs.
From a Centrelink assessment there are differences with the way Centrelink assess your pension entitlements. In a land lease community if you buy the home you will be assessed as a homeowner but may still qualify for rent assistance. In a retirement village, whether you are a homeowner or not depends on how much you paid for your unit and you cannot qualify for rent assistance unless you are a non-homeowner.​
When looking at the finances, you need to check what it will cost to buy the place to live, the ongoing service fees and what you will get back when you leave. Financial advice can help you to understand what you can afford, as well as whether you will have enough cashflow to meet your ongoing fees and lifestyle and what happens when you leave. ​
Services and accommodation provided in a retirement village or land-lease community are not subsidised by the Government, so you need have all the costs covered. However, you may be able to access government-subsidised home care services to help with the cost of your ongoing care.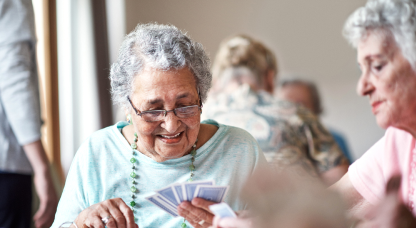 Residential care
Residential aged care combines accommodation and care support into one package. You might also hear them being called nursing homes.​
Residents have high care needs and are no longer able to live at home. Sometimes younger people with a serious debilitating illness might also live there. Staff are available 24 hours a day, 7 days a week to help you with:​
Daily activities and personal care (ie meals, bathing, dressing, continence and mobility)​
Cleaning and laundry​
Entertainment​
Nursing care, including medication administration and wound dressing.​
Essentially, the aged care provider is responsible for the home's running costs (such as food, electricity, staff etc). The staff are there to help you with personal and health-related activities that you might have previously done for yourself, or with help from a friend or family member. How much you pay for this care is determined by Services Australia based on your financial capacity (income and assets) and the government pays the rest of the cost. In discussion with the care provider, you will need to agree on a room (accommodation) price. However, if you have low financial capacity the government may help with this cost. ​
Choosing the right provider is an important decision. Think about what location will work best for you and your family, and then contact providers in the area to arrange a tour so you can get a feel for life living there. Remember to ask lots of questions.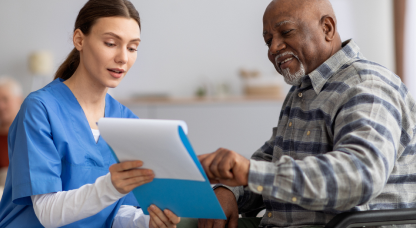 Respite care
If you are still living at home, with the kids or in a retirement community, respite care is a way for the people who are helping you to access temporary support. This can take the pressure off them, or get you more support if you need to recover from an accident or an illness. It can also give your family and carers a break to do some of their own personal tasks or have a holiday.​
Respite can be provided at a community centre for a few hours, or in residential care for a few days or weeks. ​
If you rely on friends or family to help you day-to-day, it is a good idea to contact myagedcare.gov.au and arrange an assessment for residential respite care just in case you need it. This approval means the government will pay most of the cost for up to 63 days of respite care in a residential environment, making it more affordable for you.​ You will just need to pay the basic daily care fee plus any additional service fees charged by the provider.
If you are making the move into permanent care, respite might come in handy to give you access to full-time care while you are sorting out the paperwork for a permanent move.
---

A snapshot of key features
| | | | |
| --- | --- | --- | --- |
| | Living in your own home​ | Retirement village or communities​ | Residential care​ |
| Entry cost​ | Purchase price or rent. | Generally an entry contribution or purchase price.​ | Lump sum (RAD) or daily fee (DAP). In some cases government may subsidise.​ |
| Tenancy right​ | Ownership gives right to residency until you decide to move. Renting is based on the rental agreement. | Contractual right to residency until you decide to move or trigger a termination condition.​ | Permanent.​ |
| Centrelink/DVA assessment​ | If owned, homeowner & value is an exempt asset. If renting, non-homeowner and rent assistance may be received. | Generally a homeowner & home is exempt asset. But for retirement villages, whether homeowner or non-homeowner (with assessable asset) depends on entry contribution paid.​ | Homeowner if spouse still lives in former home, otherwise homeowner for first two years or until home sold. While homeowner, the home is exempt asset. At end of exemption, become non-homeowner and full market value of home is assessable asset. RAD is exempt asset.​ |
| Access to equity release loans​ | Yes, if you own the title. But it may depend on terms of the loan offer. | No.​ | No, but may borrow against former home. ​ |
| Ongoing costs​ | Owners pay rates, utilities, insurance, maintenance etc. Renters pay ongoing rent and utilities. You also need to pay your other living expenses. | Service fees and utilities. Also pay other living expenses. | Daily care fees and additional service fees.​ These fees may cover living expenses such as food and electricity. |
| In-home care services​ | Privately funded or government-subsidised. Fees apply. May have access to respite care services. | Privately funded (which may include serviced packages from operator) or government subsidised. Fees apply. May have access to respite care services.​ | Full support provided.​ |
| Impacts when leave​ | Owners have a choice to sell the home or keep as an investment property. | Depends on the contract. In a retirement village exit fees (deferred management and refurbishment fees) generally apply. In land lease you need to sell home at market rates.​ | All fees cease. The balance of any RAD paid is refundable.​ |
---

What care will cost and financial choices
Affordability is an important factor. Determine what financial resources you have and how to best structure them. With all care and support options, you need to be able to afford the entry costs as well as ongoing costs. And don't forget, in some instances there might be exit costs if you move out.
Government subsidies might be available to help make care more affordable – but this may depend on your choices and your financial situation.
To make sure you don't make costly mistakes, or leave yourself short, understand the finances and access financial advice before you make any moves or decisions. Advice can help you understand how to best structure your finances to afford the care you need and protect your estate value as much as possible.
If you have a financial planner, ask if they are an Accredited Aged Care Professional TM, or search to find an adviser who is.
You can also use the Fase3 Tool to start building your financial knowledge and understand the costs of aged care choices.